Updated: Registrations for the Bowral Classic come to a close at NOON ON FRIDAY (October 12). There is still space available in the 90km Rouleurs Classic and the 120km Challenge Classic, however the other categories have sold out. To ride Bowral and experience this popular event visit the Bowral Classic website today! www.bowralclassic.com.au/pricing
The Bowral Classic is the jewel in the Gran Fondo crown, it's Bicycling Australia's signature cycling event, and regarded as the premier event on the annual 'must ride' calendar.
Come the weekend of October 20 and 21, the thousands of riders who've registered for this award-winning cycling spectacular will again descend on the stunning roads of Bowral and the Southern Highlands.
Bowral Classic: The Story So Far
First held in October 2016, the inaugural Bowral Classic was Bicycling Australia's first mass participation cycling event. With the objective of raising funds for charity while also providing a challenging and goal-oriented day out, around 3000 riders collectively raised more than $120,000 for those most in need. The Classic returned bigger and better in 2017, with more riders and ultimately more money raised for charity, bringing the collective total to over $250,000!
The Bowral Classic then won a number of major awards including Australian Event of the Year in two categories – Best New Event and Best Community Event, and has recently been nominated for yet more awards.
The popularity and success of the first two Bowral Classics led to both the Clare Classic in South Australia and the Noosa Classic in Queensland – both considered major successes and both scheduled to return, Clare in April 2020 and Noosa at a date to be announced soon.
The Third Annual Bowral Classic
Back bigger, bolder and better than ever, this year's Bowral Classic will feature a number of major changes. On Saturday afternoon teams of riders will gather at Bowral's Eridge Park Velodrome for a thrilling Team Time Trial event. Entry fees and all money raised from this will go to charity group RU OK?. You can read more about this and enter here.
On Sunday October 21 riders of the third annual Bowral Classic will have four ride options instead of previous year's three – the 35km Social Classic, 90km Rouluers Classic, 120km Challenge Classic and the big one, the 175km Maxi Classic.
Yet to register and want to know more about each ride? Let's take a closer look at each option.
35km Social Classic (NOW SOLD OUT)
This year's Social Classic offers a brilliant way to sample the Southern Highlands.
The 35km ride features an easy 353m of ascent. Riders will first visit the beautiful village of Berrima, here riders will stop in to one of the cafés to re-fuel using their voucher in exchange for coffee and cake.
Participants will then continue along the same route as all the other loops, direction Moss Vale. Once through this Moss Vale riders will then take the bike paths through Burradoo and Bowral, meandering toward to Expo Area at Eridge Park. Please note that the course is subject to changes due to various factors. Details can be viewed here.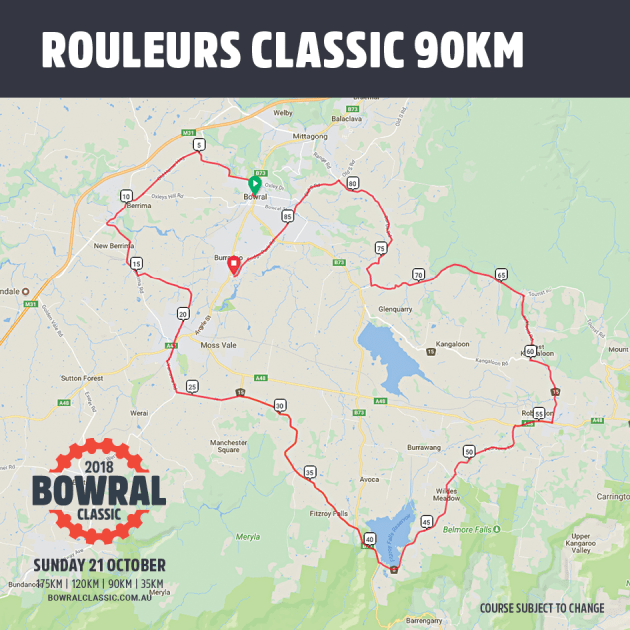 ROULEURS CLASSIC: 90KM
A brand new timed 90km course for 2018 will see riders pass through beautiful quaint towns of the Southern Highlands.
90km with 1142m ascent: That is still a lot of climbing! We are offering this as a timed ride. Riders will do a similar course to the 120km loop without doing the Bundanoon Loop. There is a still large sting in the tail waiting for you, many consider the last 40km to be much tougher than the first 'warm-up' 50km.
Like the 120km loop riders will pass through the beautiful village of Berrima followed by a fast section through to Rest Stop 1 which is located just outside of Moss Vale. After leaving the Rest Stop there is a non-timed section. Riders will turn left, missing the Bundanoon Loop and head to Robertson up the Eschappée which is the length of Myra Vale Road – more information here. 
CHALLENGE CLASSIC: 120KM
A brand new timed 120km course for 2018 will see riders pass through beautiful quaint towns of the Southern Highlands.
120km with 1429m ascent: Ready? If you have done the 120km at a Bowral Classic before you did not do this much climbing. This will be a timed ride again this year.
After leaving Bong Bong Street, riders will pass through the beautiful village of Berrima followed by a fast section through to Rest Stop 1 which is located just outside of Moss Vale. After leaving the Rest Stop there is a non-timed section. Riders will turn right and complete the Bundanoon Loop, going through this 30km loop riders will experience the beautiful Southern Highlands, including some short sharp hills. At Rest Stop 2, Exeter Oval, there will be water and bananas. Then riders will complete the Loop and head towards the Eschappée which is the length of Myra Vale Road – more information can be found here https://www.bowralclassic.com.au/the-course/challenge-classic/
The 175km Maxi Classic (SOLD OUT FOR 2018)
A revamped Maxi Classic course for 2018 will take riders through a 175km adventure that includes the rolling hills of Bowral, Berrima, Exeter, Robertson and Kangaloon.
The 175km includes 2097m of climbing! Clip in and get ready for a course which will challenge even the fittest of the bunch. Again starting on the historic main street of Bowral, we head out to stunning Centennial Road before turning left onto the Old Hume Highway.
Riders will head past Bendooley Estate, and as in the 2016 and 2017 editions turn right onto Greenhills Road for a match up with a little leg burner: Mt Misery….aptly named! At this point we are on route to Wombeyan Caves road where we, as in previous years, go out and back, a relatively fast stretch with limited elevation.

At the end of Wombeyan Caves Road we do our first new turn for the 2018 Bowral Classic. Riders will head right and back to Bowral, and as we turn left onto Centennial Road riders should be preparing for the first big climb, Oxley Hill, our official Bowral Classic Oxley Hill KOM/QOM.
More details and the GPX files here https://www.bowralclassic.com.au/the-course/maxi-classic/
Where Else To Ride
To get the low down on all things cycling in the Bowral region we spoke with event ambassador Harry Kooros, a local cycling legend and store manager of bike shop The Fixed Wheel Bowral.
Fozwat
Quite possibly the most ridden cycling route in the Southern Highlands, this is a 40km loop with approximately 400m of elevation. With a few rolling hills, it is not an overly difficult loop and will take the average rider between 1hr 15min to 1hr 45min to complete.
https://www.strava.com/activities/1227432770
Greenhills
Another common route ridden dozens of times per day by local riders, this loop traces the first quarter of the Bowral Classic Maxi Classic and is a challenging yet rewarding ride. It features several tough hills, but the breathtaking scenery makes it all worth while.
https://www.strava.com/activities/1061831593#26120343128
Macquarie Pass Return
This 75km loop is not an easy one, but is definitely a spectacular one. This route takes you from the height of Bowral (at 690m above sea level) to Albion park (at only 21m above sea level). You will descend the awesome Macquarie Pass (a 9km climb) and the challenging return climb. With a fair bit of elevation, this ride is a tough one and usually takes between 3 and 4 hours (including breaks).
https://www.strava.com/activities/151515485
Tallong Return
A relatively flat 100-120km out-and-back ride that takes you along some of the course of this years Classic. A few dead roads will test your patience but otherwise it's a very cruisy ride.
https://www.strava.com/activities/219258474
Avon Dam
This ride takes you up north to Avon Dam, where you will climb 3 short (3km) hills. You descend all the way to Avon and climb your way out. It is a very scenic ride.
https://www.strava.com/activities/221738508
Don't Miss The Event Village
The latest gear from a wide-range of the best suppliers in the industry will be on display at this year's Bowral Classic. This includes the famous Shimano display as seen at the Tour Down Under.
Shimano – the world's premium cycling component manufacturer – are a valued Supporting Partner of the event. The unmissable Shimano Australia mobile showroom will be set up on the Eridge Park oval on Saturday October 20 and Sunday October 21.
Toby Shingleton of Shimano Australia said the company's latest road, gravel and mountain bike offerings will be on display at the Bowral Classic, along with a number of eBikes available for demonstration rides.
"We will have the the new 105 disc on hand in Bowral – this will be fresh into the country and certainly something people will be interested in seeing," Shingleton told us.
"We'll also have an Ultegra RX disc bike there, along with all three road disc groupsets, plus some new MTB goodies. Basically participants can expect to see everything that is this season's latest from Shimano. We will also have around 10 demo STEPS e-bikes there for people to ride – this will be a broad representation of the brands and manufacturers using the Shimano STEPS system."
More Than Just Cycling
October's Bowral Classic provides the perfect opportunity for riders – along with their families and friends – to discover the wide-ranging delights of the beautiful Southern Highlands region.
So comparatively close to Sydney but genuinely feeling so far away, those heading to the region also have the opportunity to see and do so much more than the cycling – discover the region's cool-climate wines, fresh seasonal produce, spectacular waterfalls, amazing bush walking and pristine national parks.
There are quaint country towns to visit, relax in and explore, local cellar doors for wine tasting, historic colonial heritage to discover and Australian history to stand in awe of.
Top 5 Things To See And Do In The Southern Highlands
There's literally so much to do in this amazing region you'd honestly need a week to see and do it all. In no particular order here are some of the standout highlights.
*The Bradman Museum and International Cricket Hall of Fame, commemorates legendary Australian batsman Sir Don Bradman, also known simply as 'The Don'.
*A Short Drive Southwest of Bowral is historic Berrima and the convict-built Surveyor General Inn, a sandstone pub. This is a must-visit town that will truly take you back in time.
* Visit The Magnificent Fitzroy Falls in the vast Morton National Park. And near the village of Robertson is the splendid Belmore Falls. With a sub-tropical feel, these dramatic falls are a photographers, walkers and bird lovers paradise. There are also enjoyable bush walks, such as the Lovers Walking Track, and exhilarating mountain biking trails near Bundanoon.
*The Food And Wine experiences are delicious. The altitude is perfect for cool-climate wines, with plenty of wineries to visit. There are acclaimed restaurants, such as Biota Dining and Eschalot.
*Corbett Gardens becomes tulip central each September for the annual Tulip Time Festival. More than 100,000 splendidly coloured tulips bloom. This beautiful park is enchanting at any time of the year, with its seasonal colours.
For a full range of year-round activities see the Southern Highlands events calendar and plan your getaway today. You can also book your accommodation on the website – visithttps://www.visitnsw.com/destinations/country-nsw/southern-highlands/bowral today.