With tyre sizes gradually creeping above 30mm, we ride the new 34mm Pro One tubeless easy from Schwalbe.

From the high teens, through the twenties, with a few slight stops along the way (like 23, 25 and 28), road tyre widths have been steadily increasing.From 28 it went to 30, then 32's—which have become surprisingly popular—and now German tyre giant Schwalbe have further upped the ante with the release of a 34mm version of their premium tubeless road tyre, the Pro One TLE.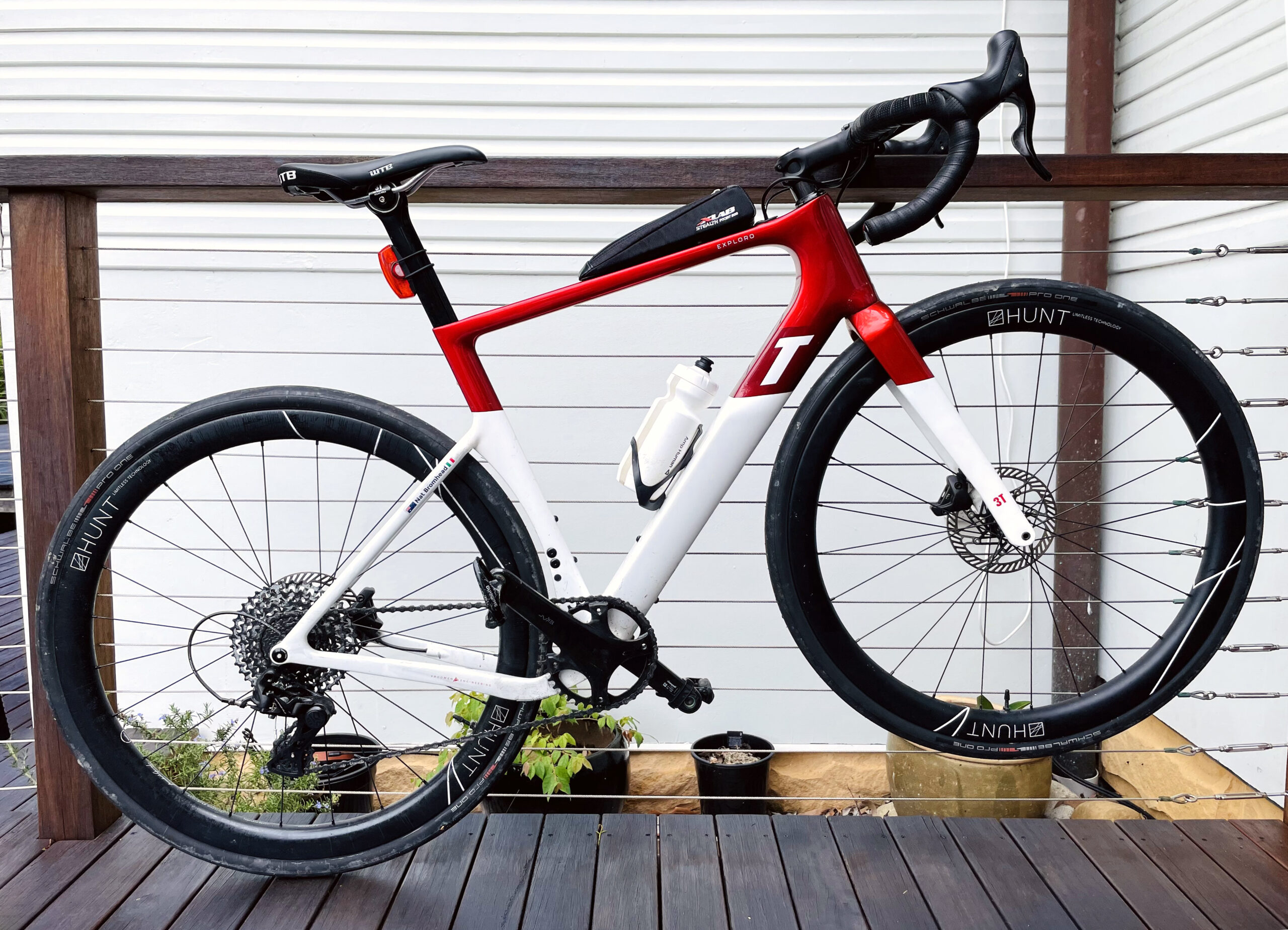 Great news, especially for converts to 'allroad'-style bikes (endurance platforms that retain performance characteristics but typically feature a more comfortable geometry and the space to fit wider, higher-volume, more comfortable and more forgiving tyres).
Sadly, there's also some not such great news that comes with the launch of 34mm Pro Ones. Yes, you guessed it, it's the bane of the bike industry…availability. Australian distributor BikeBox tell us the order is in, so hopefully it won't be too long before these highly anticipated wider tyres are widely available.
Managing to get our mitts on one of the few sets in the country, these were earmarked as perfect allroad tyres for summer holiday cycling.
Fitting them to the rims—carbon Hunt Limitless 42's—was a refreshingly simple affair. While some tubeless tyres just about require a crowbar to fit and remove, the Pro Ones were reassuringly tight but still manageable to fit by hand. Valve stem removed, the tyres popped into place after a few seconds with the trusty air compressor. Following advice from the Aussie Schwalbe distributor, we squeezed in around 90mls of sealant prior to inflating the tyres to 45psi for the maiden ride.
One thing with higher volume tyres and tubeless ready wheels: don't inflate to the type of levels we are used to! Quality wheelsets are marked with maximum inflation recommendations in relation to tyre width. The rule of thumb is the greater the volume, the less the pressure.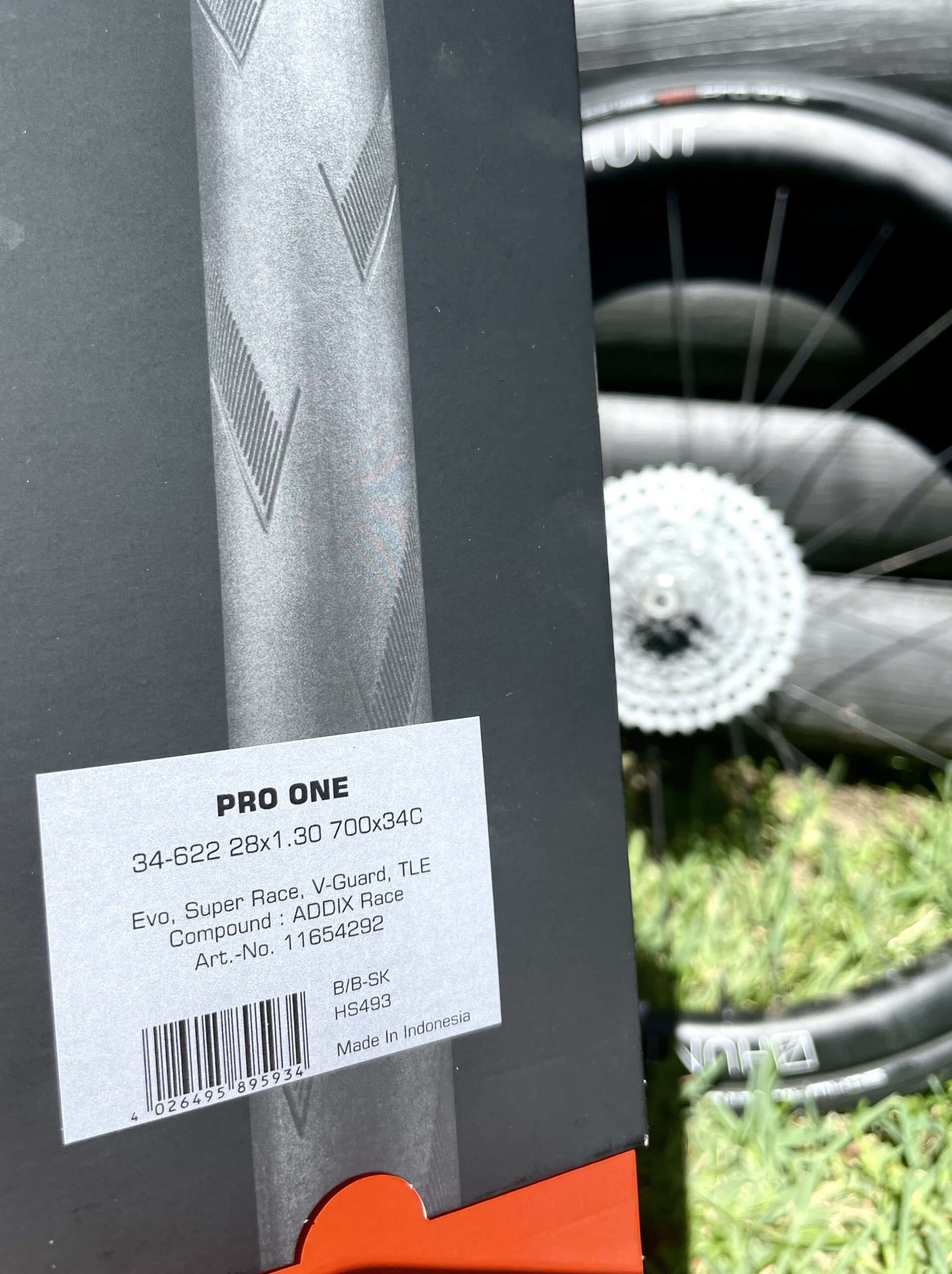 Onto the roads, how did they ride?In four words: fast, smooth and comfortable. Incorporating Schwalbe's 'ADDIX Race Compound', the tyres ride very similarly to their junior tubeless siblings, the 25 through to 32mm Pro Ones.If anything, the 34's felt more supple and more comfortable that previously tested Schwalbe tyres. Mated to the wider wheelset, and ridden over a range of road surfaces from super smooth to rough, coarse country roads, these provided fantastic efficiency and impressive cushioning.

They Must Be Slower?

Well, if they are, it isn't noticeable. With the weight savings and efficiencies of tubeless, and mated to the top-quality and fast-spinning Hunt Limitless wheels, the ride was fast, direct, grippy, and, in a word…sweet.

Traction and control were noticeably better than riding narrower tyres, as was (unsurprisingly) overall comfort. Speed and efficiency was particularly noticeable downhill and cornering—maybe a part of this was the increased confidence in having more rubber on the road. Whatever the reason, the 34mm Pro Ones were incredibly additive to the experience and a joy to ride.

Like others in the Pro One range, the tyre offers premium puncture protection through an internal 14mm wide 'V-guard' belt.

This consists of a high-resistance puncture material with a tight mesh weave to help prevent piercings. With test rides that included everything from smooth, blacktop bitumen to rough and shaley gravel, we're yet to see a puncture or any serious damage to the outer casing of the tyre.

In the Pro One TLE range, Schwalbe set out to offer a lighter tubeless tyre that's softer-riding, easier to install and delivers increased performance. They have certainly achieved their goal, with the 34mm being yet another welcome addition to the range and establishing itself as the world's premier tubeless tyre in the size category.

So will we see an even wider premium road tyre? Personally I'd love to ride a 36…but would definitely draw the line there.
More info: www.BikeBox.com.au
"…the tyres ride very similarly to their junior tubeless siblings, the 25 through to 32mm Pro Ones…"