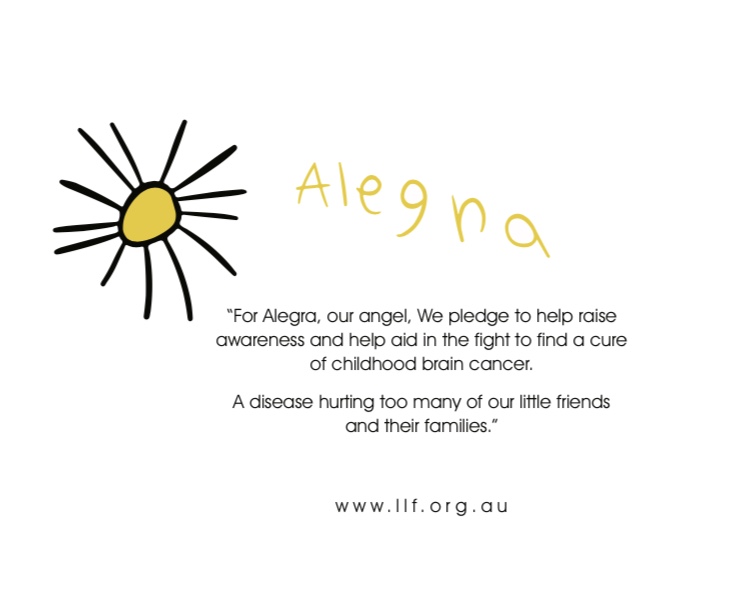 About
The Little Legs Foundation wants to spread our message of hope and compassion. We believe that a single action can make a difference in the community, and that collective action can greatly impact the world. Through sharing our story and raising much needed awareness and funds, our team works each day to contribute their part to the ultimate goal of helping find a cure for childhood brain cancer.
In 2017 a courageous and beautiful little girl Alegra lost her battle with Brain Cancer just 10 months from diagnosis at just six years of age. Her family pledged to help raise awareness and aid in the fight to find a cure of childhood brain cancer. In Australia, Brain Cancer kills more children than any other disease, and more young adults than any other cancer.
Survival rates have hardly changed in thirty years and it remains the least funded.
And so, the Little Legs Foundation was created- a legacy honouring Alegra's life which to date has committed over $1.14 million through the Alegra's Army Grant to childhood brain cancer research, set up with the Charlie Teo Foundation.
How to help?
Ride with us this Bowral Classic and become a part of Alegra's Army, as we fight for the same cause, an answer, further treatment options and most importantly a cure. With you we hope to be able to help bring much needed awareness to this disease and the need for further funding to help researchers fight this so no other family needs to feel this pain and no more children need to lose their precious lives.
Register your ride with the Little Legs Foundation here.
Read about the Little Legs Foundation here.