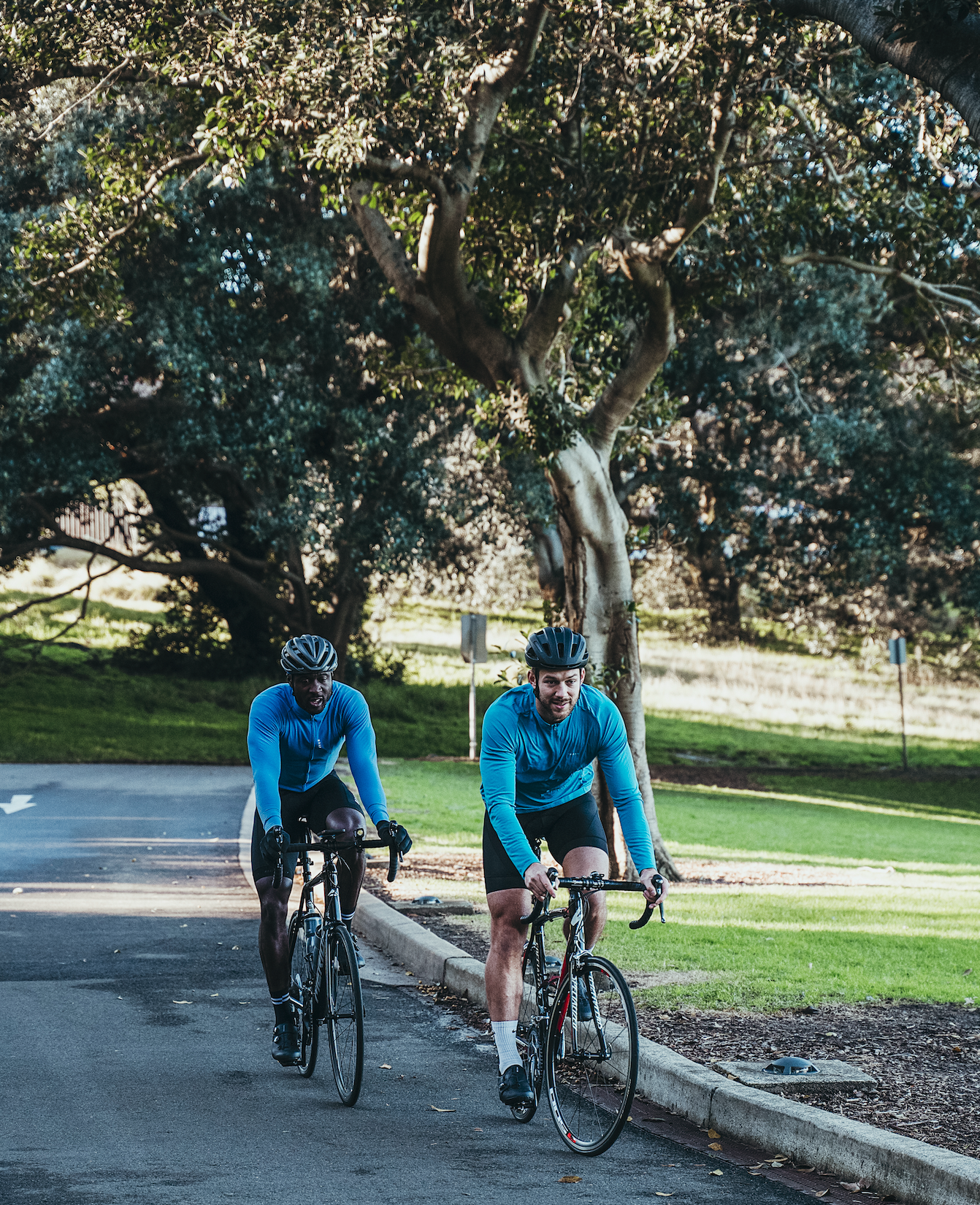 Cyclists will know that riding the Bowral Classic takes training, perseverance, patience and more training. Bowral Classic riders Ben and Jay are not only taking on the challenge of the event but they've been training for an inspiring adventure. Ben and Jay are cycling around Australia.
This week, I caught up with the guys for an interview to learn more about their journey, training and more.
Ben and Jay had the full intention to begin their journey in August of 2021. However, with the developing situation of COVID-19 on the East Coast, they will continue training and evaluate an appropriate start date! They will still be joining us in Bowral! 
About The Guys
Ben: A rugby player since he was a child and with a passion for bodybuilding, Ben came over to Australia 5 years and fell in love with powerlifting. After a crossroads in his training, Jay and Ben decided to take their fitness to the next level and take on Australia! Ben only starting cycling in 2021 but has fallen in love with the sport and the culture of cycling.
Jay: Hailing from the UK 6 years ago and inspired by athletes and their perseverance, Jay is avid in bodybuilding, trail running and endurance events. He has even cycled from Edinburgh to London in 2013. Jay picked up his bike again in 2021 and has fallen right back in love with the sport.
Why Boomerang Around Australia? 
Ben and Jay are committed to this challenge to show themselves and others that you can do anything you put your mind too. The guys are riding for mental health awareness and want to show their communities that anything is achievable.
Ben: "I believe that anyone can accomplish these sorts of feats. Everyone can see the obvious challenges that me and Jay are going to face throughout this journey, and it is up to us to overcome them. However, people are dealing with their own personal challenges every single day, overcoming them and still doing it with a smile on their face through mental health issues. These challenges are much greater than the ones me & Jay are going to come up against."
Jay: "I want to show to people that anyone can push themselves to limit both physical and mental. "Taking on such a huge challenge we thought it would be perfect to raise money for a charity and cause. We picked mental health because I've suffered from mental health myself, the mental strength that we need to take on this challenge, to break the stigma around mental health and people openly talking."
What Is Training Like & Where Will You Go? 
The guys have been training specifically for this event for 4 months. Their journey was intended to begin in August 2021 and will start and finish at their Crossfit Centre in Sydney CBD crossing all state borders and lines using the A1, M1, B1 routes around the country. They will average 280-310km per day, sleeping in their camper-van support vehicle most night. With the exception of a few hotels and Air-Bnb's across their 50 day journey. Due to COVID-19, the guys will change their start date and participate in as much cycling as they can in the meantime! 
If you look at Ben and Jay's Instagram, it's clear to see their hard work and training. Following strict diet schedules and rigorous training, they have been increasing their average pace, working on their weaknesses and cycling long distances multiple days in a row to build their stamina and endurance.
Why The Bowral Classic?
Ben and Jay: "We chose Bowral because of the amazing community that surround the Bowral Classic. As new cyclists we have found it can be difficult to find the right people to ride with, but the Bowral Classic has all the amazing people of the sport in one place! We also picked the Bowral Classic because of the choice of routes, we're going for the 120km which is close to half of our daily KM for our big tour. The 120km has great elevation and some nice hills to end the day. This will be a nice test for our training and great time to push ourselves with more experienced riders."
Ben and Jay's Top 5 Training Tips
Take the time to train on hills.
Practice taking in basic nutrition while cycling.
Practice riding alongside others or small groups.
Train different intensities in each session.
Visualise your course and prepare accordingly.
Who Are Your Cycling Role Models? 
Jay: "For me it has to be Mark Canvendish, his comeback this season, professionalism, work effort and a humble personality is definitely the way I hope to carry myself an idol for me and many young people coming up in the scene. I'd also like to add in the Vegan Cyclist known on Instagram. This guy does some incredible endurance events as well as some very cool races. I love his social media presence and definitely gives me inspiration for challenging myself and training."
Ben: "Mark Beaumont would have to be one of them. His tenacity is unbelievable. However, Chris Hoy was the first cyclist that made me take note. His power was something else."
You can support Ben and Jay on their journey by following them on social media or getting in touch to know more!