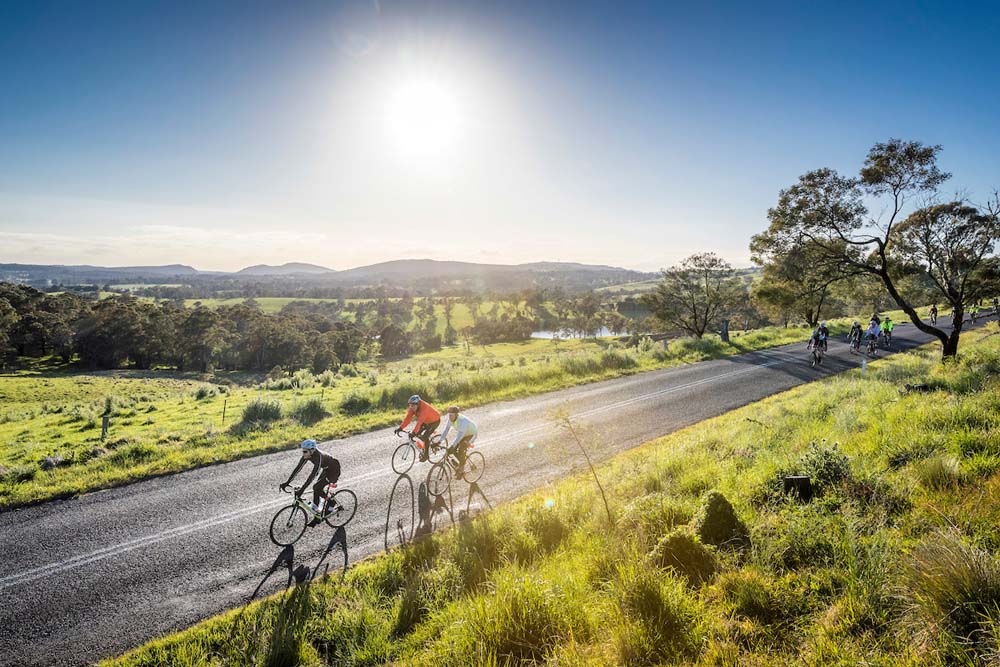 It's safe to say it's been a huge year for all of us. With the uncertainty this year brought, some of us have definitely fallen off the training wagon. But don't worry! You still have time to up-your-game before you tackle the 2021 Bowral Classic. We've put together this little article to motivate, inspire and get you back on the bike!
Look After Yourself
Firstly, you have to look after yourself.
A good sleep and a good meal will completely change the way you train.
Keep hydrated – it's getting warmer and keeping hydrated is a non-negotiable!
Fuel yourself before and after your ride, keep yourself fuelled with nourishing fruit or protein bars.
A Bike Check & Fit?
A bike fit does not last forever! Periodically it is well worth – and can be extremely beneficial – ensuring you are getting optimum performance form yourself and your steed. For any sort of training you need to be as comfortable and efficient on the bike as possible. It's critical to get your bike fit sorted before you commence a solid training block.
Service And Maintenance
How long since your bike was last properly serviced? Mechanical problems generally creep up slowly … you might not even realise but before you know it there may be ten wasted watts or more through your drivetrain alone! While you're in there getting a bike fit why not treat your bike to a full service and check up.
Make A Plan & Ride With Mates
Put together a training plan to work out the amount of preparation you need to do for your chosen distance. Never ridden a century but using the 90km or 120km events to help achieve the goal?
Work to it gradually – starting with 50km, then 75 km, then the big one, the 100km. Look closely at the elevation you are training on and try to incorporate similar course elevation to that of your chosen course.
Stick To Your Goals
Planning is a critical component of success. Set your goals and stick to them using helpful apps such as Strava, Garmin Connect or Map My Ride. Logging your hours or kilometres even via a simple note on the fridge can help you stick to your end goal. Make a pact with riding buddies, stick to not only meet ups but your individual and weekly targets, and steadily build strength and form so you're best prepared for the event.
Ride Inside
We agree time is tight and sometimes, we can't all go for a 2 hour ride in the morning. Fortunately we riders can now enjoy the luxury of having the most technologically advanced training systems easily available indoors.
Platforms such as Zwift make winter training enjoyable, competitive, motivational and productive!
Recovery
Time spent on the bike preparing for your next ride, race or Gran Fondo will be payed back in spades come event day. And just as important as warming up and time spent in the saddle, warming down and those precious post-ride recovery hours are vital stepping stones to making you a stronger, fitter and faster rider.
Cool Down Slowly
Recovery begins the moment you stop moving. Whether it's a race, training ride or Gran Fondo event, spend a minimum of five to ten minutes cooling your body down – whether it's spinning or time on a stationary trainer. Once off the bike keep moving – stretch, shake, bend and allow your body to ease settle back to off bike mode.
Keep Hydrating
Regardless of how much fluid intake you've had on the bike, now's the time for more. Whether it's simply an one or two more bidons of water, or an electrolyte or sport drink, it's time to top up lost fluids and prevent the onset of dehydration.
It's Protein O'Clock 
Protein feeds the body and fuels recovery – whether it's a simple bar, shake, chocolate milk or small meal, starting the refuelling process is important soon after you stop exercise.
Reset With Rest
For a cyclist the couch can be just as important as cadence! Rest is vital for recovery and kick-starting the muscle repair process. It also heals the body, helps prepare muscles for your next ride  and assists in the prevention of illness. The equation is simple – eat, sleep, ride, repeat.
Keep training and we'll see you on the start line!