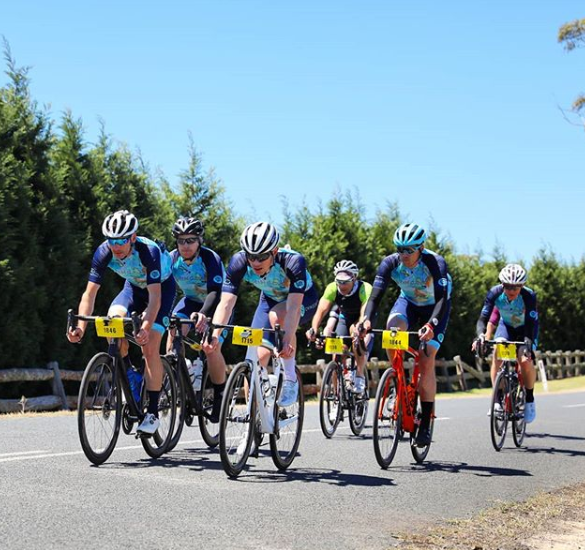 By Casey Bury
Owain Matthews is a British-born runner turned triathlete who has joined our crew of ambassadors for this year's Bowral Classic! The talented athlete has seen success all over the world in his sporting career, growing up in the United Kingdom where his running achievements even earnt him a scholarship to attend college in the United States. 
Now he finds himself here in Australia coaching triathletes and continuing his success by collecting a number of accolades, including the 2018 ITU standard distance age group title. 
We had a chat with the multi-talented Owain and got to know him a little bit better. 
Bowral Classic: Hi Owain, thank you so much for having a chat with us! Let's start with your background, how did you get into cycling and how long have you been doing it for? 
Owain Matthews: I really got into cycling when I moved to Australia, in the back end of 2011, early 2012. That is when I started triathlons. 
BC: I thought I could hear a bit of an accent, where are you from? 
OM: I'm from the UK originally, then I went to the US for college, and then back to the UK before moving to Australia. I have always been a runner. When I moved to Australia there weren't many running clubs, but there was a triathlon club. It started with triathlons but then I met a lot of road cyclists and really enjoyed that side of it.  
BC: Awesome, where did you go to college in the US? 
OM: I was at the University of Oklahoma, I was there on a running scholarship, and that was great. I got to travel and run! 
BC: What do you enjoy most about cycling? Why do you do it? 
OM: There are probably two reasons, the first is the social aspect because I find with running, and even with triathlons, a lot of the training is quite isolated. One of the greatest things about cycling is going out in groups. It is such a social platform for me, and I really enjoy that interaction of enjoying cycling with others.  
The second thing I enjoy about it is the freedom of being outside and exploring, unlike running you can only get so far. With cycling you end up going to all these different places, and I wouldn't have seen half the places that I have in Australia without cycling. Especially around Sydney there are some beautiful routes. 
BC: That's amazing! You've mentioned that you do triathlons, do you do any other sort of training? What would a typical training week look like for you?  
OM: I train twice a day every day, I have to fit that around my kids and my job so I'm up early in the morning training and then again in the evening. I also have to mix that between swimming, cycling and running as well as some strength and conditioning that I do. It takes a bit of organising, but I like the mix. Then in terms of riding I probably spend half the week doing some specific triathlon training and then there's times where I get to go and do group rides as well, which is really good. 
BC: Imagine you've just been out on a big ride or had a big training session, what would your go–to meal be? 
OM: Well anything I have is going to have a coffee with it. I'm a big coffee fan so that's the first thing I have. I've got a pretty well-balanced diet, but it's hard to beat a bacon and egg roll!  
BC: Do you have any pre–event superstitions? Anything that you do before a big race? 
OM: No, I think I'm pretty lucky that I grew up running and that I've competed quite seriously since I was pretty young. My biggest thing for an event is trying to make sure I'm relaxed and calm and have the mindset that I'm going to go out and do my best but also more importantly enjoy it. As long as you've done the checks in terms of making sure you've got all of your equipment and things like that, which you get into a routine of anyway, it's mostly about how you're feeling and what your heads like on the morning.  
BC: Finally, what did you want to take away from the Bowral Classic this year? 
OM: I think the biggest thing I am looking forward to is riding with a group of guys that I ride Bowral with, and to get the best out of everyone as a whole group. We try to start and finish together and want everyone to get through the event as quickly as they can and be proud of their result. 
BC: That's such a great approach, do you find you get a little bit competitive with each other? Or is it more just encouraging each other? 
OM: Yeah it is all pretty encouraging, we may have a crack in some of the different sections and if someone goes ahead, we just wait. It's much more enjoyable to finish and then have a beer at the end together knowing that everyone had a good ride and really enjoyed it. You know I think that's kind of the reason why we all go down and why we keep coming back to Bowral every year because it's a beautiful ride, and we enjoy doing it together. 
BC: Thanks for chatting with us and for your continued support!