Nestled in the beautiful Southern Highlands of NSW, Harbison is proud to be a community-owned aged care provider. For over 60 years, Harbison has provided professional and personalized care to the community's older citizens. Harbison's person-centered approach delivers a holistic range of care and lifestyle programs tailored to each resident's individual needs and goals, offering leisure and recreational programs uniquely designed to engage and support social, cognitive, emotional, spiritual, and physical wellbeing.
This year, Harbison is incredibly excited to be a charity partner for the first Mudgee Classic in 2022 after inspiring success at the 2021 Bowral Classic.
At 5am on Sunday morning, Harbison showcased their Trishaws and Cycling Without Age with a polished set-up at the 2021 Bowral Classic. It was an early morning for the residents participating on the road with the Trishaws with an 8am roll out from Bong Bong Street, but Harbison showed they were in the game and ready to create history. With four aged care residents and two trishaws, Harbison completed a 35 km organised cycling event and the Bowral Classic had experienced a world first.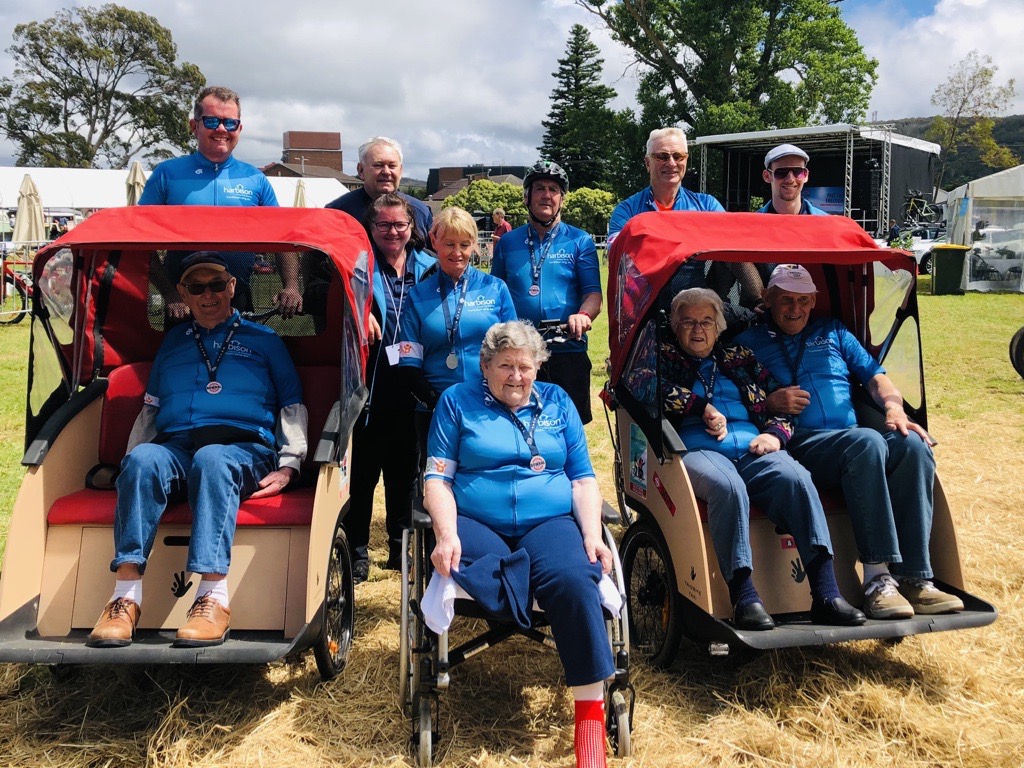 At Mudgee Classic 2022, the elites will race for a personal best in the Maxi rides. Harbison will enjoy chauffeuring riders and guests in our Trishaws, piloted by Harbison staff and volunteers. Harbison's passengers will experience the majestic scenery of the Mudgee Classic landscape as they socialise with others around the stunning shoreline of Lake Jindabyne. The Harbison Trishaws will also be launched into the Peloton at the Mudgee Classic later this year.
In the village, the Harbison Team will be showcasing Motiview. Motiview is an internationally recognised easy-to-use cycling simulation therapy. Motiview assists the elderly and people living with dementia to be more physically and cognitively engaged. Motiview consists of a specialised bike, video and sound, enabling participants to be taken on virtual cycling adventures globally through familiar surroundings, which both stimulates and incites childhood memories.
Harbison participated in the 2021 Motiview Road Worlds for Seniors where a total of 5,000 cyclists and 250 teams across 11 countries engaged in a tight competition across multiple continents. Harbison's two teams, the 'Slow Speed Demons' at Burradoo and at Moss Vale stood out very early at the top of the competition with a fantastic effort and tremendous commitment, as the rest of the World engaged through social media and live crosses. Both Harbison teams ranked in the top 10 globally with Burradoo finishing in 6th place and Moss Vale in 9th place, ultimately placing Harbison and Australia on the global stage. Harbison's megastar, Dorothy Robinson from Moss Vale was the 2021 silver medallist in the ladies class, ranking 2nd in the world.
Harbison's Road Worlds for Seniors created energy, comradeship and community. Harbison witnessed discipline, consistency, courage, and fun every day with 8,978.5km of team success.
Pain is temporary, memories are forever – famous cyclist
The Harbison family creates memories forever.
For more information, please feel free to contact Harbison's Partnership Manager, Zac Hulm on 0410 435 148 or [email protected].