Mudgee is undeniably one of NSW's most enjoyed tourist destinations. The region has much to offer from wineries to fine dining, shopping and is all set in a breath-taking landscape. As you would expect with all Mudgee has to offer, the region is inundated post-COVID with tourists flocking to enjoy wineries, distilleries, and of course – The Mudgee Classic.
We're hearing that accommodation during the Mudgee Classic weekend (Saturday, 1 May 2022) is proving to be a little difficult. But don't worry! We've been thinking outside the bike to bring you this article and make sure you've got your accommodation sorted.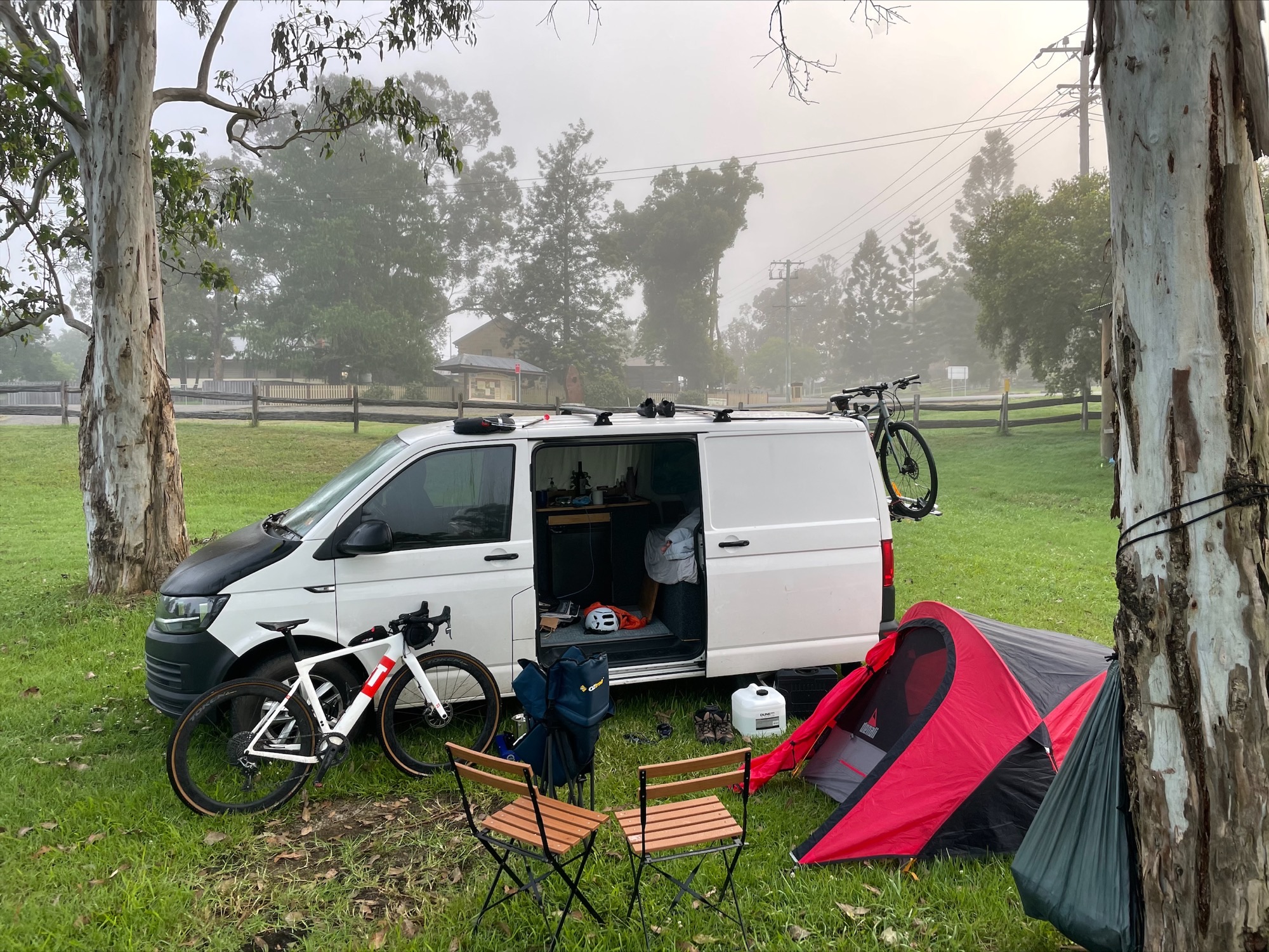 How about this for an idea. You could rent the perfect van. #VanLife
Camping or Glamping 
There are a number of great campsites within a 30-minute drive radius of Mudgee. If you are looking at booking a site, do it ASAP and make sure you get your hire van organized (if that's what you're opting for). We've done the legwork for you and the below campgrounds still have sites left to book… but they won't last long.
Camping
Cudgegong Waters Park: https://cudgegongwaterspark.com.au
Cudgegong Water Park currently has unpowered sites, powered sites and cabins available on Mudgee Classic weekend. Their most expensive cabin is only $112 per night! (Bargain…) The park is located 20 minutes away from the centre of town on Windamere Dam and is a peaceful, family-friendly holiday park.
Gulgong Tourist Park: https://gulgongtouristpark.com.au
Bronwyn at Gulgong Tourist Park told us the cabins are all booked out over the event weekend however there's still availability for campers, campervans and caravans.
"We have still have plenty of powered sites," she told us. "They are $33 a night. We also have a limited number of unpowered sites at $27 per night over the Friday, Saturday and Sunday night."
Asked what she most enjoyed about historic Gulgong, Bronwyn said there was plenty to do across the whole region.
"A couple of really good museums, one of them takes at least a few hours to go through," she said.
"There's vineyards, the local pubs, those museums … it's just such a relaxing place to hangout."
Gulgong Tourist Park is at 8 Goolma Rd, Gulgong, and their phone number is 02 6374 1294. You can also email them on [email protected]
Big4 Holiday Park Mudgee: https://www.big4.com.au/caravan-parks/nsw/central-nsw/mudgee-holiday-park
The Big4 Holiday Park is located in the centre of town and is part of the 'Big4' chain of parks. Currently, there are only a few cabins left but will surely be snapped up soon being so close to the start line.
Glamping
Glamping Hub: Click here to see all glamping spots available on your Mudgee Classic weekend.
Hi Camp: Click here to see all glamping spots available on your Mudgee Classic weekend.
Glamping Hub and Hi Camp amalgamated all available glamping spots in Mudgee. Rooms/ tents range from around $300 per night and go up. Glamping is a really fun and luxurious way to enjoy camping. Many glamping spots are eco-friendly and a great way to enjoy the region. Most of the spots available are within a 10 minute drive from the start line.
Our Top 10 Camping Must-Haves
Bug spray, bug spray, bug spray.
Blow up mattresses, swags, or sleeping mats.
Camping kit that includes a stove and a billy (check your campsite, they generally have BBQ areas but some don't)
Don't forget your bath towels.
Boardgames, Jenga, or puzzles to keep you busy!
Don't forget sheets and pillows.
Lawn chairs/ foldable chairs
A first aid kit (better to be safe than sorry!)
Portable phone chargers.
Sunscreen and sun protection.