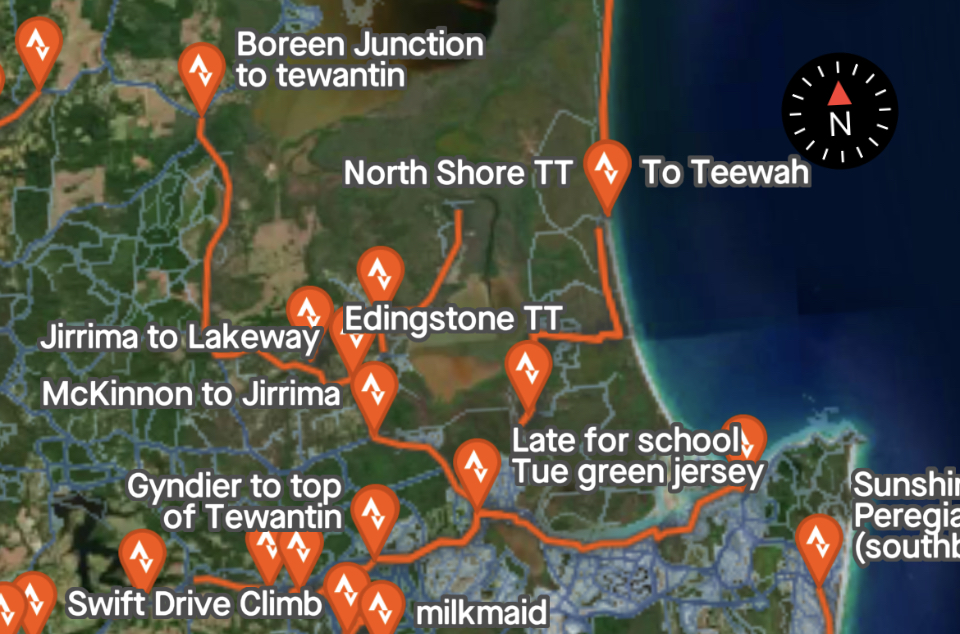 So you're planning to head to paradise for the Noosa Classic and keen to not only explore the region but enjoy some quality training rides in the lead up to the event … but where do you begin?
Here are 5 of our favourite rides in and around the Noosa region.

Noosa To Gyndier Drive And Back – 30km
Heading out of Noosa, follow the river through Noosaville and continue on through Tewantin. Keep going along Noosa-Cooroy Rd (there's a wide shoulder and marked bike lane), until you see the Gydnier Drive sign on the left hand side.
Theres also a sign here directing cyclists to leave the main road. Once on Gyndier you are on a closed road – it's a 3km climb to the top and a fantastic training ride. Simply reverse the route to get back to Noosa. Just watch for pedestrians and dog walkers.
Noosa – Cooroibah – Boreen Point – Pomona – Cooroy Noosa – 70km
One of the more popular local rides takes in the relatively quiet country roads just to the north of Noosa and visits Cooroibah, Pomona, Cooroy then back to Noosa via the well-known Gyndier Drive. There is a small portion of gravel in this ride.
Boreen Point – Out and back
Don't have as much time for the ride above but still want a rewarding spin? Boreen Point and back is a beautiful ride and can be made as easy or difficult as you like. It's a mostly flat ride of just under 25km and highly recommended.
Noosa 'World Champs' Course & David Low Way
Ask any keen local their top 2 go-to rides and they'll often start with Noosa's world famous 'The World Champs' route. This begins and ends at the top of Gyndier just outside Tewantin and is basically the first 20km of the Challenge Classic in reverse, and 25km in length.
David Low Way – 55km
The second is totally coastal – you can't get lost and the views are stunning. Sunshine Beach – Twin Waters return 55km. Just head south from Noosa, past Sunshine Beach and follow the David Low Way south towards Coolum. This is an extremely popular and very scenic route with many bunches along the route most mornings. Warning: You'll want to stop to take photos! It's that scenic.